Thanks to Swift-Cut, it's never been more affordable or achievable to own a water-jet cutting system. Waterjet technology produces excellent fine-feature cut quality with low edge taper, no heat-affected zone, a narrow kerf, and dross-free cutting.
It also offers the ability to process nearly any material and a thickness range capability unmatched by other cutting technologies.
The Swift-Jet machine with its easy to use software, powered by Hypertherm HyPrecision pumps provides high quality cutting on a wide range of materials at a low-cost investment. Easy to use with exceptional aftercare and support, the Swift-Jet is the answerto affordable, high precision in-house cutting.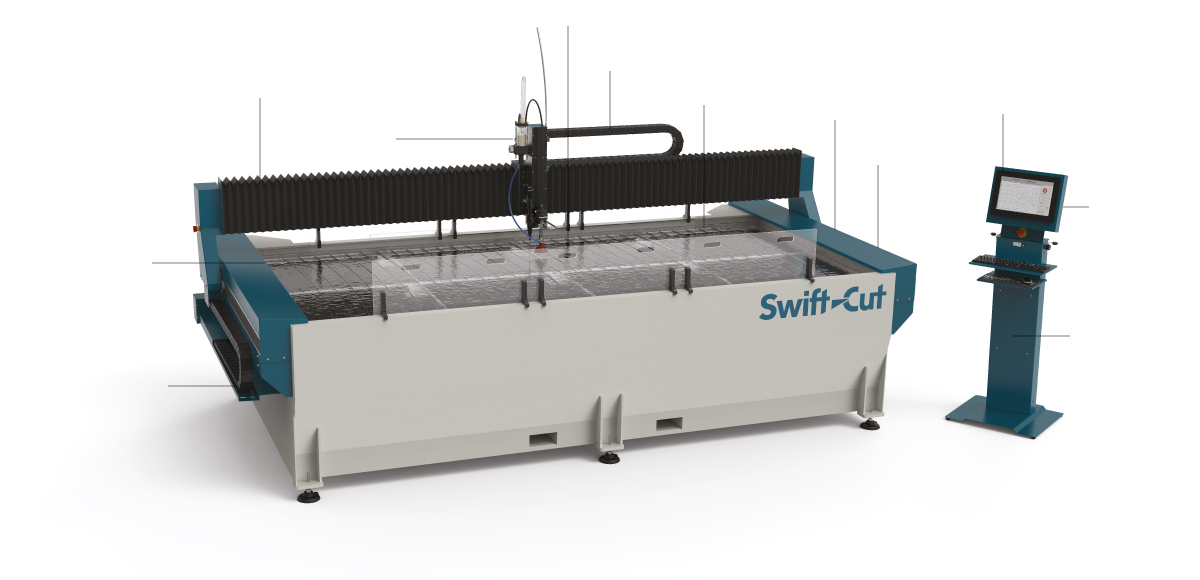 Collision probe
Enclosed drag chains
Water tank
Dual Y Axis
AC servos
EtherCAT communication
Software
Bellows & cover
Hopper
Linear rails
Enclosed drag chains
Operators console

SJ1500
1525mm x1525mm
cutting area (5' x 5')
SJ3000
1525mm x 3050mm
cutting area (5' x 10')
Swift-Cut Software is among the best in the industry – easy to learn, easy to use and with minimal training requirements, machines can be in production within hours of delivery.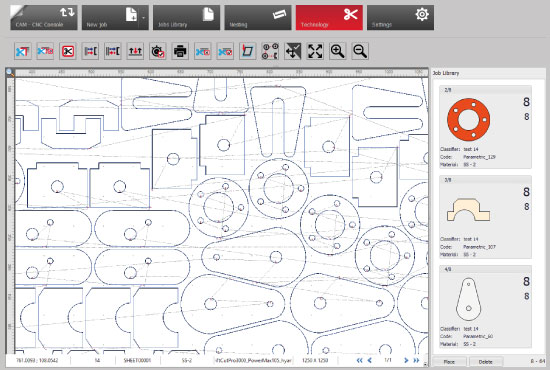 Automatic nesting
Automatically nests parts for economical sheet usage
Automatic lead in/out
Software automatically applies lead ins/out for quicker programming
Micro joints
Tabs to prevent parts moving whilst cutting
Bridges
Continuous cutting between parts to reduce cycle times
Common-line cut
Cut along shared edges of parts.
Sheet Alignment
Align the cutting path with misaligned sheets on the cutting bed.
Reference points
User configurable reference points for jig fixtures.
Cut modes
5 cut quality modes from fine to rough
Parametric shape library
Over 80 configurable shapes
Part in part nesting
Nest parts in scrap areas to fully utilise the sheet
Customisable cutting rules
 Optimise cutting parameters for best cutting performance
Toolsets
Pre-programmed toolsets for common materials
Customisable toolsets
Modify or create toolsets for new materials.
Job reports
Export job reports displaying scrap percentage and cutting times.
3D Cut Simulation
Play a 3D machine simulation of the cutting operation.
3D part preview
Preview the part in 3D before cutting
Maximum traverse speed 15m/min (590 ipm)
Maximum Z clearance 220mm (8.5 inches)
Positional accuracy 0.0150mm (0.001 inches)
Tank Depth 840mm (33 inches)
Hypertherm HyPrecison pump
HyPrecision 30hp
HyPrecision 50hp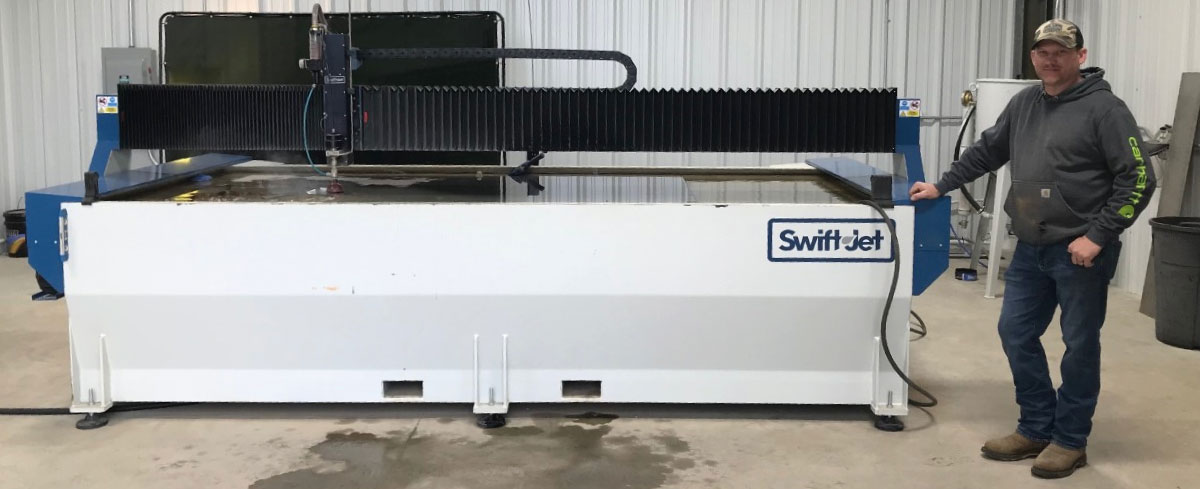 Lawhon Welding in South Carolina provide a full fabrication facility including bending, shearing and designing – prior to discovering Swift-Cut, they were cutting metal by hand, a time consuming and costly exercise that didn't have a huge profit margin.  Not only was it labour intensive, but cutting by hand then required a lot of secondary operations to clean things up – further stretching the operational output and putting more pressure on the costs they had to hand down to the customer.
Customer's requiring more precise work with thicker metals were a problem, right up until Swift-Cut introduced him to the Swift-Jet 510 Waterjet System.  This has been game changing for Lawhon Welding, who are proud to say that the combination of both the Swift-Jet and Pro machines capabilities has revolutionized the way they work.  Glenn said, "We cannot believe the accuracy and edge quality that we're able to give our customers.  Having both technologies allows us to provide our customers with the best solution for their requirements."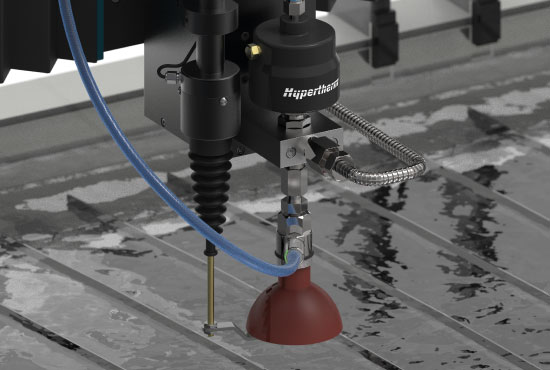 Collision probe protects the cutting head in the event of a crash.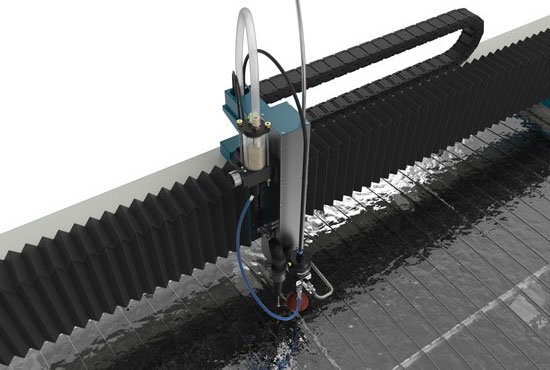 Bellows and covers prevent ingress for component protection.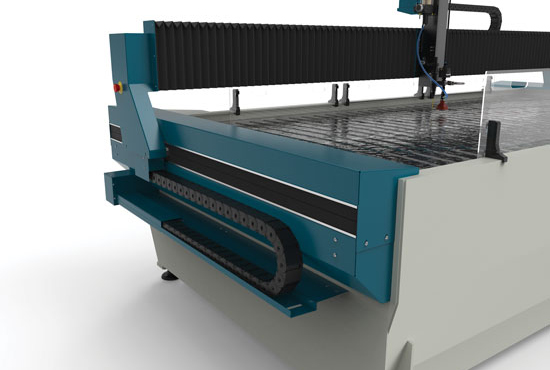 Epoxy coated heavy duty steel water tank is long lasting and delivers stability for precise cutting.
Standalone
operators console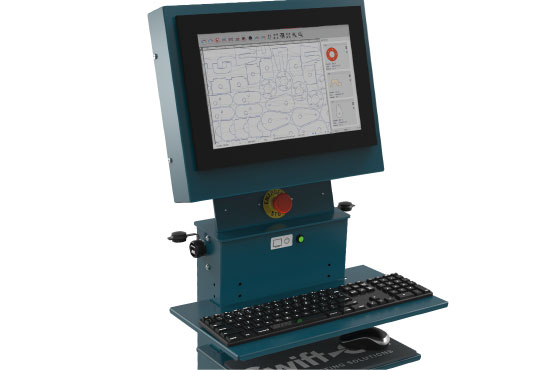 Ergonomic standalone operators console with touch, keyboard and mouse inputs.
Enclosed cable protection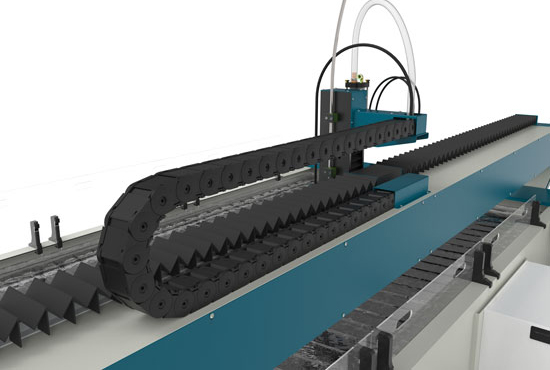 Enclosed cable drag chains protect cables reducing potential downtime.
Unmatched positioning accuracy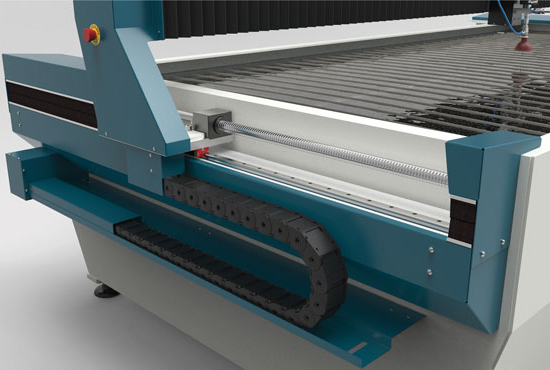 Omron AC servos with high resolution encoders drive precision ball screws on all axes for unmatched positioning accuracy.