The Jobin Organization – roofing and waterproofing
Established in 1962, The Jobin Organization (or Jobin Waterproofing Corp as it was originally called) is a family run business specializing in roofing and waterproofing.  Business is booming and having moved into a new manufacturing facility, they are now investing in new tools and equipment that continue their mission to take their business to the next level.
A Swift-Cut demonstration for The Jobin Organizations (TJO) shop manager Bryan Grossman provided two important insights – how incredibly quick and accurately the machine cut and the overall quality of the table itself.  Two key factors in their procurement of the table and a good lesson in why seeing our machines in action is never wasted time.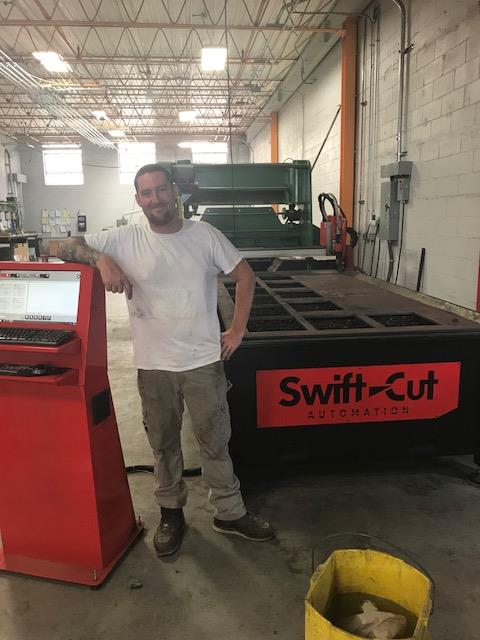 The demonstration resulted in the purchase of the Swift-Cut 510XP with the Hypertherm MaxPro200 and they've not looked back.  Well, apart from comparing how they used to cut with hand-held plasma units and manual drills.  As Bryan himself said: "The cutting we've banged out with the Swift-Cut XP table in the last couple of months would either have taken us five times as long with out old methods or cost us five times as much to have another company to produce – and we'd still be waiting for the parts".
In two months, TJO has cut over 30 plates of steel from ½" to 1" thick, a time frame completely out of the question without their Swift-Cut 510 XP.  This accelerated, vastly improved way of working is going to positively change their business and how they work, propelling them into another league entirely.  The reliability and cut quality, producing part after part with exceptional accuracy and edge quality and the confidence Bryan has in its capabilities – all reinforce TJO's desire to meet and exceed their customer's expectations – a value and ethos they share with Swift-Cut.