The Swift-Cut XP is cutting edge in its design and more durable than ever. The new XP is designed with production cutting in mind up to 32mm, now available to work in conjunction with the Hypertherm MAX PRO 200. Supplied with OMRON AC servo motors across all axes for improved accuracy.
The liquid cooled mechanised torch is mounted to a redesigned heavier duty gantry to provide a sturdy platform for high amperage cutting, this allows for a pierce capacity up to 32mm and improved cut speeds, with mixed gas cutting available on all plasma options. The increased clearance height from bed to gantry allows up to 150mm box section to be cut. Add to that the opportunity to utilise the water mist technology, which will not only give you a precise cut but is the optimum technology for working with stainless steel and Aluminium, and the Swift-Cut XP really is all its cut out to be.
4000mm x 2000mm
13′ x 6.5′
Breakaway head
Prevent premature torch failure with our breakaway head system
Digital torch height control
Follow the contour of sheet metal automatically
Floating initial height sense
Reliable touch off sensing system for accurate pierce heights
Enclosed cable management
All cables completely covered to prevent damage from molten debris
Freestanding console
Place the console in the most convenient position around the table with the plug and play operator interface assembly
Fume management
Segmented downdraft system that allows extraction at the point of cut giving you efficient, cost effective and safe cutting environment
Fork lifts pockets
Effortless relocation and transportation of the table
Linear guide rails
Offers great cut quality at high speed
Helical rack
Cut accurately and smoothly to get an extra edge in cut quality and performance
Drive system
IGBT driven sinusodial Omron 400W drive
Servo motor
Digital torch height control driven by 100W OMRON servo drive system
Ability to cut using Air/Air, O2/Air and N2/Air
Improves edge finish
Faster cut speeds
Less dross
Less taper
Longer consumable life
Swift-Cut's easy to use software guarantees that anyone with a basic knowledge of computers will be capable of operating the CNC plasma cutting system. Minimal training means the machine will be operational almost immediately, maximising output from the start.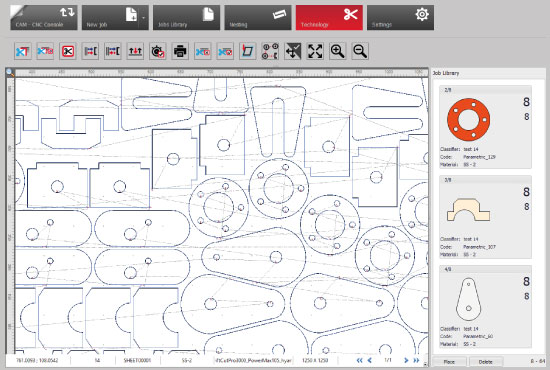 Available in three versions
Simple and easy to learn and use, zero training requirements
Allows you to simply import and auto nest parts, saving on time and costs
Easy and fast loading procedure
Correct programming of machines without any investment efforts required to learn a new system
Offers a wide library of parametric patterns
ML Ruberton, construction company based in New Jersey US own a Swift-Cut XP machine.
Their plasma technician said "the Swift-Cut software is intuitive and easy to use. It's as simple as it needs to be, while still retaining a great deal of customizability for a more advanced user to create the very best quality parts. The reliability of the machine is exceptional and the engineers are knowledgeable and helpful."
Prevent premature torch failure with our breakaway head system
Offers great cut quality at high speed
Segmented downdraft system that allows extraction at the point of cut giving you efficient, cost effective and safe cutting environment
Cut accurately and smoothly to get an extra edge in cut quality and performance