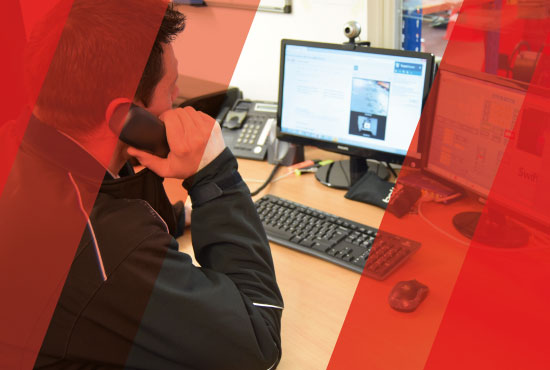 A Refreshing Approach to Aftercare
With more than 1500 machines worldwide Swift-Cut take aftercare support very seriously. Our machines are technically supported worldwide – whether directly or via our regional partners.  You will receive ongoing engineering support for as long as you own your machine – an aftercare assurance that is unrivaled and unquestionably Swift-Cut.
Swift support from the start
Choose Swift-Cut and be supported from the moment your order is placed – from advice on power sources to pre-install paperwork that tells you all you need to know about the journey you're about to embark on.  With Swift-Cut – we strive to prepare you for the arrival of your machine so that you'll be up and running immediately.
"I was equally impressed with the installation process and after care. The process of choosing, buying and fitting our machine was a 'piece of cake' " Jamie, designer at JAILmake
Swift Care
Regular maintenance of capital equipment is not only a legal requirement, it also assists in ensuring the longevity of your investment and optimal performance.
Our Swift Care Annual Service provides for one of our skilled technicians to undertake a diagnostic check of your table and the replacement of any worn serviceable components. As part of the service, we discuss with you any possible performance issues and make the necessary recommendations.
With our Swift Care Service and Support package, you not only receive an annual service but your table is also covered by an extra year manufacturer's warranty and un-limited access to our Support Team for both technical and application assistance.
What happens on Swift-Cut day?
Following the commissioning of the machine you will receive comprehensive onsite training, designed to make you immediately proficient.  Our engineers will stay with you until you are confident – usually half a day is adequate.
"I found the process far simpler than I thought it would be, with a problem-free installation and training that was more than enough to have us up and running within the day." Chris, C&S Fabrication
Remote Support
You will never be far from a Swift-Cut engineer, especially in the early stages.  Our TeamViewer remote engineer comes as standard – allowing our team to see the operator screen and diagnose fault.  At Swift-Cut – we keep you cutting by taking a rare and refreshing approach to aftercare,  ultimately making you competent in operating your machine and recognising problems if they arise.
"What I liked is the aftercare from Swift-Cut, who have been prompt when I had an issue and who have, when able, given me the tools to rectify the problems myself. How reassuring that Swift-Cut is looking to help the customer, as opposed to simply seeing it as an opportunity to charge a call out fee." Paul, MD of Foursquare Farm Buildings Ltd
For technical queries call or email your local support team – please check the contact section and choose your country
Swift-Cut Sales
Testament to the service and training Swift-Cut provides, our customers have a habit of coming back.  One customer has just purchased their sixth Swift-Cut plasma cutting machine.  Another has added a Swift-Jet to their collection, after being blown away by their Swift-Cut plasma machine.  See what our customers say here for more success stories.
Swift-Support
With over forty years of experience in plasma and water jet cutting, we have unparalleled knowledge when it comes to cutting on many different grades and types of material. Swift-Support allows you access to our team for material applications and so enhancing both your performance and productivity
Swift-Cut Team
Swift-Cut maintains over 1500 machines worldwide and our team is made up of the very best plasma and water jet engineers, all passionate about keeping Swift-Cut customers cutting.
For a quote on a new machine call your local Sales team – please check the contact section and choose your country.
Feel you need more?
With Swift-Cut you can purchase a 1 year extended support and choose an annual service package.
Swift reaction times
We aim for next day dispatch on parts and same day dispatch on consumables (ordered before 2pm)
For parts and consumable call or email your local sales team – please check the contact section and choose your country.